Huge filing cabinets and files stuck in one location no longer serve many of us as business owners. Space is at a premium and we would like to keep our offices as streamlined as possible. Maybe even more importantly in our mobile society we want (or need) to be able to access our files from remote locations.
There are a number of options for accessing our files online. Services like Log Me In, GoToMyPC or direct log in to our own company servers assist us in accessing our office computers from home or on the road.
Being able to access our files electronically means that we must have an easy way to convert our paper items to an electronic format. Granted, many of us, many of the files we create or receive via email, we can already save to our hard drive or server in an electronic format. But what about all the statements and correspondence we receive via snail mail or documents that we receive only in paper format?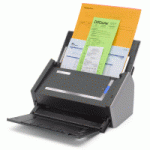 I have discovered some solutions that work really well for me, so I want to pass them on to you. First of all is a really stellar scanner. I have been seeing advertisements for a long time about the Neat Receipts series of scanners and I was on the point of purchasing one when I decided to do a little more research. By the way, Amazon, Google and YouTube are your friends when you are deciding on a major purchase. My research led me to the Fujitsu ScanSnap S1500. I absolutely love this scanner! Really easy to use and to scan documents both to your server, backup device and/or Evernote, a service I totally love. Evernote is in the cloud, but you can also create notebooks on your local server/external hard drive/or computer. You can tag files by categories for easy access. Even better, it's completely searchable by text recognition (OCR) technology as well making it really easy to find your files.
Here's to your success in simplifying your life!