First Impressions Start with What Customers Hear When They Call You
Phone Right Communications Training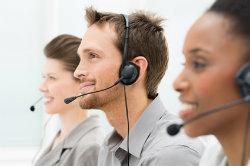 Create an effective, systematized approach to interacting with your clients or customers on the telephone.
Phone Right is a training program that is designed for organizations whose business depends on telecommunications. The Phone Right training is separated into segments. Each segment focuses on ways you can increase the effectiveness of your team's telecommunication, sales and customer service skills. We customize your training to fit your company's needs and training schedule.
Phone Right First Impressions zeros in on one of the most problematic, yet over looked needs of any business – your receptionist's training. Any business that has a receptionist should have that person view at least this special segment. This special section will instruct receptionists on how to create brilliant and lasting first impressions for your company.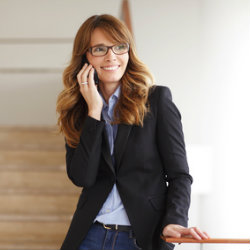 The Phone Right training also covers Answering Systems, Voice Mail messages, On Hold messages and Cell Phones since in an ever changing business world, we communicate with our customers in a variety of ways.
Our Phone Right program is customized to your company. Typically the program is split into two training sessions: One initial training and one follow up training to reinforce the learning and also to follow up with any challenges in implementation. The program can be delivered live at your office or at my conference room in San Diego. Or we can deliver the program direct to you and your team via live webinar using GoToMeeting.
What clients say:
"Linnea Blair trained our whole team on how to answer our phones in a way that is a welcoming and friendly experience for our clients. Her presentation was interesting, interactive, and fun! We now all "smile to the point of a grin" before answering the phone, and we've learned how to elicit the kinds of responses and information we need to best help our clients. Linnea's approach challenged us to think differently about our phone interactions and how we come across to our friends and clients. I highly recommend the Phone Right program!"
Tanya Scott, Partner
Hutchinson and Bloodgood LLP