Develop Coaching Skills in Your Management Team
To keep your business competitive, you as a leader need to make your company more flexible and responsive to changes in the economy, technology, product development, and customer expectations. One of the key success factors is having capable, loyal, creative, and proactive people on your team! Keeping the best people motivated to stay with your company, and committed to your goals isn't always easy.
The development of a coaching culture within your company is a process that shifts the culture of the workplace from one where people just receive direction from others to one where people commit to doing things they care passionately about. Everyone wins, and your business achieves competitive advantage when your team members' creativity and potential are realized.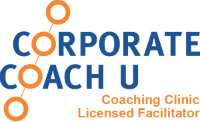 The Coaching Clinic ®
Coaching Skills for Leaders and Managers
The Coaching Clinic ® is a two-day leadership program designed to train managers, executives, leaders and supervisors to use coaching techniques in their work relationships. This program helps you to bring a coach approach to managing people, and teaches hands-on coaching skills to help you develop and empower your team.
The Coaching Clinic ® was developed by Corporate Coach U. Linnea Blair is a coach facilitator licensed to deliver this program.
Our training program can help you create a coaching culture! Here is how The Coaching Clinic® works:
Phase I – Two day coaching skills workshop
Customized specifically to your company, to include the following:
Background and context for coaching in the corporate environment
Being a coach vs. managing others

Five step process for coaching in the workplace

Basic tool kit of coaching skills
Coaching from your personal strengths to the strengths of others
Advanced coaching skills
Situational coaching case scenarios and skill practice
Model coaching from workshop leader(s)
Phase II – Follow-up Integration Session
Using new or expanded skills in the workplace often presents immediate challenges for manager coaches. A focused follow up over a period of 30-45 days after a training session is a key component in integration of coaching skills into a manager's everyday style. The scheduled follow-up will be two 4-hour small group integration sessions covering:
Challenges and outcomes of advanced coaching skills to date

Practical problem solving of specific issues encountered

Additional skill building scenario practice
Formation of self-coaching empowerment teams
Phase III – Value Added Mentor Coaching
Between the two-day workshop and the integration session, a coach is available to mentor coach each manager individually on specific challenges they might encounter in implementing workshop skills. This coaching will be via telephone and email, providing real-time support for issues or situations the manager is experiencing.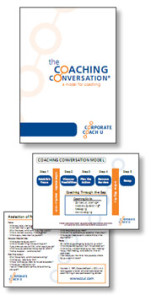 The Coaching Conversation® Workshop
Coaching Skills for Leaders and Managers
The Coaching Conversation® Workshop is a half-day program built around one of the core concepts from The Coaching Clinic®: The Coaching Conversation communication model. This five-step model helps structure coaching and performance related conversations for more effective communication leading to better outcomes.
Contact us today to customize a coaching program to give your managers the tools to be effective team leaders.
Call 619.291.3700 or Contact Us by Email.