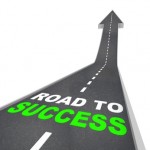 Your Business Plan – Road Map to Success
Here are three reasons why you need a real live business plan, instead of a quick template that you filled out years ago that you can't even find.
A strategic business plan is your roadmap – a guide for you to refer to as you make decisions about how to run your business.
As you bring new employees into your company, or train and educate your existing team, your business plan provides clear direction and reinforces your culture.
Banks, governments and business partners are increasingly requiring business plans to support their decisions relating to lending and providing financial assistance, and a good business plan can make the difference.
Discover the benefits of developing a business plan in gaining increased control over business operations and improved opportunities to step back and work ON rather than IN the business. Learn the key steps required to create a plan document for your business and how to use it. You'll learn:
What's in a business plan
How a business plan helps you manage your business
How to prepare a business plan
How to use your business plan
Date: Thursday, November 3, 2011
Even though this class has passed you can access it in our

Free Resources

area by becoming a Free Member of Advisors On Target.
Time: 5:00 PM Eastern (4:00 PM Central, 3:00 PM Mountain, 2:00 PM Pacific)
Cost: Free

This class is valuable on its own, but if you are interested in a directed process to put your plan together in just FOUR weeks, you can click here to find out more.