On Target Executive Group Program for Contractors
We bring together small groups of closely networked business owners who want to focus on making their businesses more successful. Over the course of a year, we work together to enhance each member's business performance in seven key areas: Leadership, Finance, Business Planning, Administration, Productivity, Marketing, and Sales.
Increase Your Business Performance
The goal of the On Target Executive Program is to improve the overall business performance of each member's business. Participating companies see positive trends in profitability, growth and effectiveness.
Participating in an On Target group helps you be more accountable to yourself in reaching your goals. We work with each member to improve the profitability of your business and to assist in the development of systems to work "on" your business rather than "in" your business.
An On Target Executive Group consists of 10-12 business owners usually in the same industry. On Target group members meet monthly via tele-conference, receive individual business consulting from our consultants throughout the year, and join together with other Executive Group members from semiannually for business building conferences and peer group networking. Business owners from all over the United States participate.
Contractors are our specialty! While we work with all types of businesses, our current On Target Executive Groups are made up of Painting and Remodeling Contractors
Fabulous Conference Locations
We hold our conferences in settings that are both conducive to thinking strategically about your business and relaxing and enjoyable as well. This beautiful sunset was filmed at the La Jolla Beach & Tennis club at our 2009 Fall Conference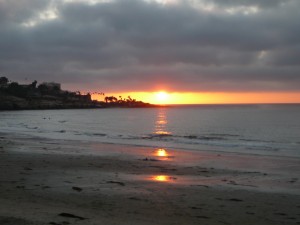 Goals of On Target Groups
To improve the overall business performance of each member's business in the following areas:

Leadership
Financial Management
Business Planning
Administration
Productivity
Marketing
Sales

To foster professional support, accountability to objectives, and build friendships among members
To leverage the cost of consulting services among members providing them with quality consulting and workshops at a fraction of the cost of individual consulting
To help each member's business to become more successful by coaching members in staying accountable to their goals and on track for achieving them
To create a synergy of ideas and actions among members that dynamically increases the personal and professional growth of members
Interested in participating in the On Target Executive Group Program? Give us at call at 619-291-3700 or Contact Us via Email.