One of the initiatives I am helping clients with this year is creating a customer communications plan. As part of my own Client Communication Plan for 2011, I have decided to showcase a client of the month that I especially appreciate working with or who is simply put, "On Target".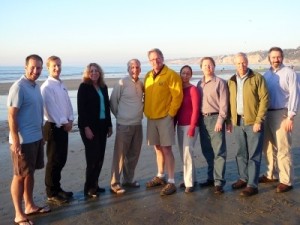 How many business owners are willing to take two days at a beautiful resort and put their energy into working ON instead of IN the business?  In January, several of my clients who belong to our Executive Peer Group program did just that.
Winter is the slow season for many businesses and I often see the tendency for business owners to scale back business activity and planning just when they can get the most value from doing some advance planning to help get their year off to a great start.
These On Target Executive Group members spent two days acting as a board of directors for each other's companies as well as discussing Market Trends and what to look for to make sure they are on the leading edge as the economy comes back.  We also learned from guest speakers with workshops on topics as diverse as leadership and emotional intelligence, and learning ways to increase the value of your business in order to sell or otherwise transition out of it in the future.
So, kudos the business owners like these who see the value in taking time to work ON the business.  I expect that they will achieve increased growth and profitability in 2011 as a result. In recognition, I am naming the On Target Executive Group as On Target Client of the Month!