Grow Your Small Business
Small Business Group Coaching for San Diego Entrepreneurs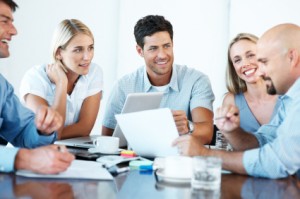 Get support in implementing your business goals with our Monthly Small Business Group Coaching for San Diego entrepreneurs and small businesses. This program is perfect for small business owners who don't have a lot of structure in your businesses and who need some inspiration, direction and encouragement to stay accountable to your plan.
Join up to 5 of your peers in this monthly group coaching program that will keep you on track and on target to implement your business goals. As your coach, I will also guide you in some specific workshops to develop systems and structure into your business to help you grow your income and your profits.
We have one group that meets on the third Tuesday of each month from 9:00 to 10:30 AM PT. Our second group meets on the second Wednesday of each month from 4:00 to 5:30 PM PT.. All sessions are held at the Conference Room on the first floor of our office at 3940 Hortensia Street, San Diego, CA 92110. Session days/times can be changed by agreement of all group coaching members.
Each Group Coaching program is limited to 6 participant businesses so you will get lots of individual attention for your business. You may bring one additional company member to the group coaching sessions. Your monthly investment is $97 per month.
Vision
You have a vision for your business
You want to make that vision a reality
My vision is to support you and your business to achieve your vision
We can do that with structure and support
Structure
We meet once a month for 90 minutes.
Each month I will talk about a specific topic to help you implement best practices into your business.
We'll start our January session identifying your company's goals for the first quarter of 2014 and talking about strategies to achieve them. We'll help you create timelines and action steps to get there.
Most businesses want to grow, so we'll be exploring The 4 Ways to Grow Your Business and specifically how you can effectively implement them in your specific business.
We'll add more topics through the year that we choose as a group as important to your business success.
We will chunk topics down to make it easier to take in
We will take time to discuss your specific business and how you can implement the month's topic to help your business grow
You will set action steps for yourself for the coming month
Support
You will have the benefit of my coaching in a small group setting
You will meet with your peers once a month
You will help hold each other accountable
You will share goals and progress
You will learn from each other and share ideas
Your investment is $97 per month. Your investment is a monthly subscription and you can cancel at any time. However, I would ask you (on the honor system) to plan to commit for 3 months.
All sessions will be in person at the Advisors On Target Conference Room in Old Town San Diego. You will have input into choosing the best day and time to meet should group coaching members wish to change the meeting time. You also have access to a Members Only secure web page where I provide materials, tools and templates.
Sign up here to get started on the road to business success!
Questions? Call Linnea Blair at 619-291-3700.