Business Planning: Plan to Succeed instead of Failing to Plan – October 28, 2010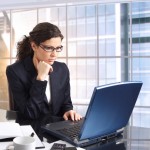 Develop a business plan and get control over your business operations and improve your opportunities to step back and work ON rather than IN your business.  In this webinar, we'll discuss how to create a complete plan for the business or just a set of action steps to cover your critical areas of operation.
A business plan is an excellent tool to define your personal assets and liabilities, describe the competitive conditions in your market, your financial needs, ways to promote your products and services, and assess the skill sets your team needs to be most productive.
You will learn the key steps required to create a business plan document for your business and how to use it as a blue print to run your business, to introduce your company vision and strategy to team members, and  to represent your business  with banks and other potential investors or lenders.
Date: Thursday, October 28, 2010
Time: 1:00 PM Eastern (12:00 PM Central, 11:00 AM Mountain, 10:00 AM Pacific)
Cost: $37 but only $27 if you register by October 15
On Target Entrepreneur, Business or Executive level members may attend free. Log in to Member Portal to Register.