My blog is mobile, is yours? I've downloaded the WordPress App for IOS to my iPad and added my Advisors On Target blog to the app, which makes it even easier to blog on the go. This is an important step in letting go of being tied to an office or desktop, or even a laptop to get my work done and communicate with my audience of clients, prospective clients, business partners and friends.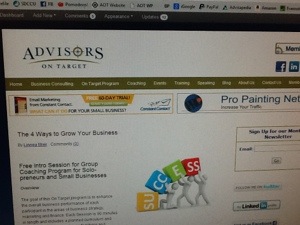 What's great about this WordPress blogging app is that it seems to be (mostly) fully featured and allows me to add photos, including taking photos on the spot with the camera in my iPad. You can also add videos from your video library or take a video in the moment. So far I have not figured out how to access other photos I have stored in WordPress.
You can also download the app to your iPhone and there are other versions for Android and other platforms too. I am going to test out the WordPress Mobile Android app for my phone, but I am sure I will continue to prefer the larger screen of the iPad for blogging.
I recently purchased a Bluetooth enabled keyboard for my iPad which makes blogging on the go easier too. I really like my Logitech Ultrathin Key Board Cover. I find it handy for taking notes in meetings, and since it's a cover as well, it snaps over the face of the iPad and fits right in the same iPad case I already had even though it is bulkier than the regular leather cover. It has a sleek look, which I love as well.
I created this entire blog post using the WordPress Mobile App. It definitely took me more time than on the desktop to format the image placement and add links (I miss my mouse!), but I know I will get faster at using it the more I work with it. If you want to get the WordPress Mobile app for yourself, you can find it in the App Store or at WordPress Mobile.