What is the number one reason why entrepreneurs start a small business? Freedom! Most people start a business so they can be their own boss.
As entrepreneurs, we want to be free to create a business that we are passionate about. We want the power to make decisions and take action without having to get someone else's approval first.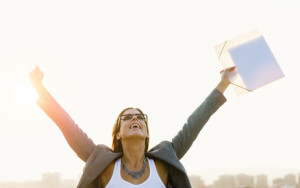 In many cases new entrepreneurs think they will have more free time, or at least more flexible time. The flexible part may be true for some new entrepreneurs, but unfortunately many small business owners find that they are working harder than ever to get their business off the ground.
As a business coach I am an advocate for entrepreneurial freedom.
What can small business owners do to emancipate themselves from being tied to their businesses?
Make time to work ON
Spending all your work time on the day to day operations of your business will keep you in bondage to your business. Making time to plan, strategize and set goals and action steps is what will allow you to move out of the day to day grind and into a true CEO role in your company. Each week set aside time (at least an hour or two) for planning what's next. Schedule longer planning sessions monthly and quarterly, and plan an annual retreat for long term strategic planning.
Learn to delegate
You don't have to do it all! Sure, you may be the best (or think you're the best) at what you do. But in order to grow your business so that you aren't the only one doing everything, you've got to let go. It takes time to train people, and yes, they aren't always as good as you, but they can still do an acceptable job, and they will get better at it with training and encouragement. Also, learn to outsource to other professionals. You can get someone else to do your bookkeeping, write your newsletter or answer the phones. It's an investment that will free you up to do the most important jobs in your business.
Do what gives you freedom
I recently listened to a CD of an interview with motivational speaker, James Malinchak. One of the points he made was about doing things or working with people that contribute to your freedom, and not things or people that contaminate your freedom.
Are you focusing on doing what you love to do, what you're good at and what gets you results? Or are you doing things that drag you down? We're all happier and more productive when we love what we do, AND when we have the type of clients who appreciate what we do for them and employees and partners who share our values.
Take a break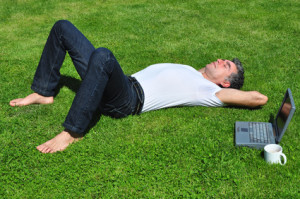 Everyone needs a break. You'll be more effective in your business if you make time for down time. During the workday make sure to schedule in a couple of short breaks away from your phone and your desk. Take a short walk or just put your feet up and listen to music for 15 minutes. Enjoy your weekends. Even if you're a workaholic, or have a business that's opens 7 days a week, take at least one day completely off from the business.
The Two Week Test
The true test of entrepreneurial freedom is if you can take two weeks away from your business without having to jump in and work remotely, take phone calls or deal with client or employee issues. This also means that the business is still functioning and making money while you are away, not just that you shut it down for two weeks.
If you haven't achieved that yet, I challenge you to work on being able to schedule that Two Week Test for some time in the next 6 months. If you can pass the Two Week Test, why not aim for 4 weeks? That's why you went into business, right? For the Freedom!
Here's to your success.